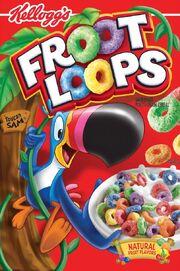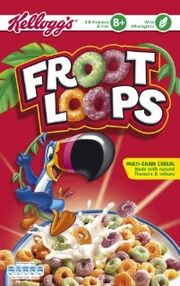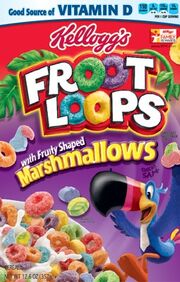 Froot Loops
Froot Loops 1/3 Less Sugar
Marshmallow Froot Loops
Froot Loops Smoothie
Froot Loops cereal bars were released, which consisted of Froot Loops and a milk flavored substance holding together the bar. There have also been straws made of Froot Loops.
Originally, there were red, orange, and yellow loops, but green, then purple, and finally blue were added by the 1990s.
Pop culture
Edit
Froot Loops were Archie Bunker's favorite cereal in the TV show "All in the Family."
Every Froot Loop color tastes the same.
1/2 a cup of Froot Loops (non- 1/3 less sugar) has 12 grams of sugar.
There are 4 letter Os in the name of "Froot Loops"
Mascot of Fruit Loops
Edit