2021 present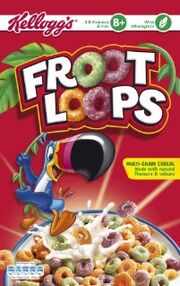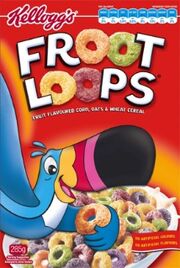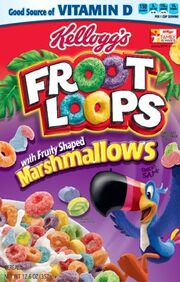 Flavors and other products
[
]
Froot Loops
Froot Loops 1/3 Less Sugar
Marshmallow Froot Loops
Froot Loops Smoothie
[

]
Froot Loops cereal bars were released, which consisted of Froot Loops and a milk flavored substance holding together the bar. There have also been straws made of Froot Loops.
Colors
[
]
Originally, there were red, orange, and yellow loops, but green, then purple, and finally blue were added by the 1990s.
Commercials
[
]
The plot of the commercials was usally Toucan Sam has to help an animal in the jungle and solves it by giving them Froot loops cereal.
In the 2000s he and his nephews had to stop various villains from attacking them.
List of ads
[
]
Kangaroo
Elmer Elephant
Penguin
Bad Bat Berry
Li'l Dogie
Pirate 'Gators
Skating Ostritches
Sporting Bear
Seal of Approval
Movie Star
Bird-Bot
Madame Gypsy
Rapping Rhino
Dog Cowboy
Pop culture
[
]
Froot Loops were Archie Bunker's favorite cereal in the TV show "All in the Family."
Trivia
[
]
Every Froot Loop color tastes the same.
1/2 a cup of Froot Loops (non- 1/3 less sugar) has 12 grams of sugar.
There are 4 letter Os in the name of "Froot Loops"
Toucan Sam's nephews are named Huey, Suzie, and Louie. All names very similar to Donald Duck's nephews, Huey, Dewey, and Louie.
Mascot of Fruit Loops
[
]