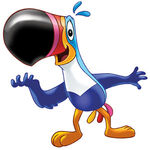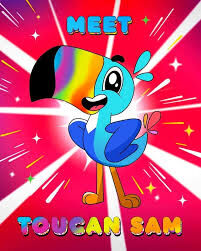 Toucan Sam is a Kellogg's cereal mascot that has been around since the early 1960s. He is a blue anthropomorphic toucan, which correlates with the first three colors of the Froot Loops cereal.
In May of 2020 Toucan Sam was redesigned. Notable differences between classic and modern Toucan Sam is the gradient rainbow beak the new toucan has and the the toothed mouth on the side of his face. In comparison Toucan Sam 2020 resembles a 2D paper cutout while Classic Toucan Sam has more dynamic lighting. New Toucan Sam has been criticized for looking like the infamous "Cal-Arts Style".
Catchphrase
[
]
"Follow your nose! It always knows!"
"Follow my nose! For the fruity taste that shows!"
"Wanna see the Froot Loops world?"
"Follow me through the loop.
"To the North Loop!"
"Hello, friends!"
"Anytime! just, Follow your nose!"